Born in 1919, Air Chief Marshal(Retd) Om Prakash Mehra was educated at Government College in Lahore, Pakistan. He was an excellent hockey player in his youth. ACM O.P Mehra(then Gp. Captain) was the manager of the Gold winning Indian hockey team at the 1956 Melbourne Olympics in Australia. India beat Pakistan 1-0 in the final to secure the Gold medal. It was India's sixth Hockey gold medal in a row, until then a record for any country in any team sport at the Olympics.
Victorious 1956 Indian team photo at the Olympic stadium in Melbourne Australia.


(Group Captain O.P Mehra sitting middle row, third from left)

Indian Hockey Federation(IHF) reception to the victorious 1956 team in Mumbai.


(Group Captain O.P Mehra sitting first row, fourth from left)
ACM O.P Mehra became the Chief of Air Staff in January 1973 and remained so till he retired in 1976. He was the President of the Indian Olympic Association(IOA) from 1976 to 1980. He then entered politics and served as Governor of Maharashtra(1980-82) and Governor of Rajasthan(1982-85). ACM O.P Mehra is a devout Sai Baba devotee. Besides serving on a number of committees, he was the Chancellor of Mumbai University and is a Honorary Life President of the Olympic Council of Asia(OCA). ACM O.P Mehra is also a keen golfer, winning the 1995 Sterling Resorts Nehru Cup.
During the Kargil conflict with Pakistan in 1999, Several former service chiefs including ACM O.P Mehra, expressed concern at the manner in which the defence forces were being handled by the Indian government in general and Defence Minister George Fernandes in particular.
On June 4, 1999, A delegation of former services chiefs led by ACM O.P Mehra called on the prime minister and apprised him of what they felt was a serious situation developing within the forces. The other members of the delegation were former chief of Army staff General O.P Malhotra, former Navy chief Admiral R.H Tahiliani and former Air chief S.K Mehra.
Apart from criticising the government's handling of the Bhagwat issue, the veterans alleged that despite the court's strictures, then defence secretary Ajit Kumar was moved to a comfortable posting while the Naval Chief was made the scapegoat. Blaming the government for "a lack of transparency and accountability,'' they said that few steps were taken to restructure the defence setup for a better working relationship. Instead, they said, the government went ahead and sacked the serving chief, creating bad blood among the forces.
They urged the Prime Minister to ensure that the armed forces were handled with care. ACM O.P Mehra(now in his 80's) went to the extent of telling the prime minister that "George Fernandes is an unguided missile'' and the sooner he was out of Defence, "the better it would be for the country.'' Though the prime minister had a hearty laugh over the comment, he apparently promised to look into the issues.
ACM O.P Mehra is reported to have met the President later and told him that the damage done to the defence forces and the country by the government was enormous. It was also pointed out that if defence matters were treated with neglect and indifference, the country would have to pay a heavy price.
ACM O.P Mehra is a prominent member of Kiwanis club(New Delhi). Kiwanis artificial limb centre in south Delhi has given a fresh lease of life to more than 100 patients per year, since its inception in 1978. The club runs a number of activities including vocational training for the underprivileged sections and literacy classes for adults and children.
On October 1, 1999, in celebration of International Day of Older Persons with Helpage India, a function was organised at Rashtrapati Bhavan. President K.R. Narayanan presented the HelpAge India Golden Award to ACM O.P Mehra for his exemplary contribution in the field of social service. ACM Mehra has been involved in extensive welfare activities like setting up of a school for mentally handicapped children, working to provide artificial limbs for the physically handicapped and arrangements to provide free ophthalmic care to the poor.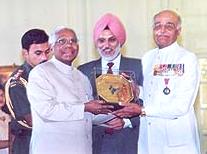 ACM O.P Mehra recieving the trophy from President Narayanan

In January, 2001, ACM O.P Mehra was part of a high-powered team from the Delhi Policy Group, a think-tank on security affairs and foreign policy in the capital, that went to Islamabad. This was on an invitation by an Islamabad-based institute, to have discussions on nuclear restraint and other strategic issues. Some of team members are currently members of the National Security Advisory Board and met with senior officials in Musharraf's administration to test the waters in Islamabad. This officially-inspired, non-governmental diplomacy with Pakistan is part of New Delhi's Track II diplomacy.

A truly patriotic Indian, Air Chief Marshal Om Prakash Mehra continues to contribute to Indian society and peace in the subcontinent.